Apprentice Success Stories: Meet Fernando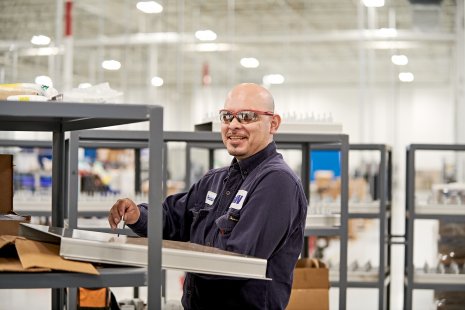 Beginning his electrical manufacturing career as a forklift driver in 1998, Fernando Mena has always been a quick learner with the determination to consistently climb the company ladder. After only six months as forklift driver at Joslyn Manufacturing, he transferred to the company's injection molding department. Shortly after, he was approached by the plant manager to take over the cable accessories team.
After Joslyn Manufacturing was purchased by G&W Electric in 2006, the transition to a new process came natural to him. Fernando took it upon himself to learn everything about G&W Electric. Already working as the team lead, he quickly became the master assembler for the cable accessories department.
Always looking to improve his skillsets and accelerate his career, Fernando decided to take advantage of G&W Electric's maintenance apprenticeship program. And before the program even began, Fernando took the initiative to do the grunt work within the department such as changing filters and checking on safety equipment. "You have to do the dirty work in order to get to actually do the real work. It was tough, but I didn't mind it," said Fernando.
"Fernando has always been a motivated person who isn't afraid to roll up his sleeves and get the job done," said Moises Guzman, Maintenance Supervisor. "It's wonderful to see Fernando love the work he does. His attitude is what drives the G&W Electric culture and inspires others to be great." 
During the apprenticeship program, Fernando mentioned he and his fellow apprentices worked together and shared experiences on how to perform certain tasks. Having such a talented team challenged them to improve their skills and allowed them to finish the program ahead of time.
"The program totally improved all my skillsets associated with maintenance. It's also helping me achieve my career goals with not only the knowledge on the job, but by leading others in order for us to become a better team," said Fernando.
More than a year after graduating from the apprentice program, Fernando is looking forward to learning more by taking additional G&W Electric classes and collegiate courses. He's striving to become a supervisor and working on the morning shift. "Hopefully I can continue to progress my way up to a supervisor where I can lead my own crew of maintenance technicians."
"The apprentice program has been one of the best experiences that I've ever had," said Fernando. "Not only has it improved my skills, but it has also improved my quality of life by helping me do what I love."