Apprentice Success Stories: Meet Norma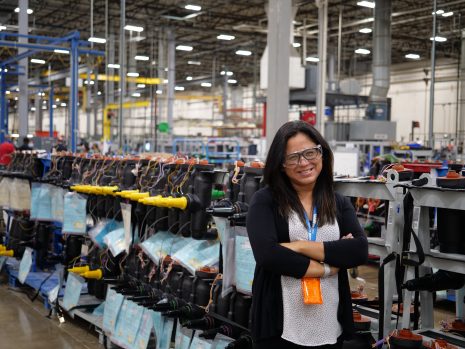 Norma Mankowski has always been interested in inspiring others through her teaching. Born and raised in Mexico, Norma moved to the Chicago area 17 years ago. After 10 years of training employees at a healthcare transportation company, she made the decision to spend more time with her youngest child and became a full-time mom. Once all of her kids were in school, Norma felt the urge to return to her first love: teaching others to succeed.  She is also enrolled at Northern Illinois University to obtain her teaching license and a degree in Applied Management: Instructional Technology, Training and Evaluation.
Between balancing being a mother and continuing her education, Norma learned that finding a flexible job could be difficult. As she puts it, "I needed a job with flexibility that allowed me to pursue both passions, teaching and taking care of my family."
Even though a manufacturing company was something totally new to her (let alone, a company that manufacturers technical products for power and distribution), Norma applied for a position at G&W Electric and was hired to work the 6 AM to 2:30 PM shift for G&W Electric's Viper internal assembly line.
Norma believed the work-life balance was a perfect fit for her. It allowed her to pick up her kids from school and have dinner with her family before taking her night classes at NIU. "When it comes to family, G&W Electric is very understandable of your time at home," added Norma.
Even with no prior experience, Norma felt comfortable and reassured as her supervisor worked side-by-side, teaching her. After quickly learning the details of the job, Norma's supervisor recommended she enroll in the company's Training Within Industry (TWI) introduction course to expand upon her knowledge.
By learning the TWI methodology, the course gave Norma the opportunity to continue her passion by training G&W Electric employees. Following the class, Norma expressed to her leader and supervisor she was interested in the TWI apprenticeship. And once the position became available, Norma felt a strong sense of encouragement and support from her colleagues – her leader assisted her in reviewing the application and her supervisor congratulated her after she got the position.
"Norma personifies the G&W Electric Apprenticeship program," said David Jones, Production Manager. "It melds together the apprentice's passion and aptitudes and matches it with a need within our organization. The result is two-fold; an employee who feels empowered to grow within the company and a company that fulfills its commitment to its customers by delivering the products and services they need to serve their communities."
After starting the year-long program in February 2020, Norma worked with engineers to learn more comprehensive details about the internal assembly process of G&W Electric's Trident switchgear. Already a teacher by nature, this information improved Norma's assembly knowledge, allowing her to create an easy step-by-step guide to train and onboard new employees. 
"I am very happy with the team I have around me, they have encouraged me to master a set of tasks and to quickly move on to learn another skill." Without hesitation, she has taken advantage of other resources offered by G&W Electric to broaden her horizon by participating in courses such as electrical wiring, management, leadership, and more.
Norma shared she believes the apprenticeship program is "a great learning opportunity and huge possibility for growth." She feels the apprenticeship will not only prepare you for your next role, but you can apply the knowledge gained to other areas at G&W Electric.